eco-i-on H2Go(s) Water Generator USA DuPont SPE and PEM Dual Chamber Technology
eco-I-on H2Go(s) water bottle with SPE and PEM Dupont Dual Chamber Technology
Hydrogen molecular enriched water absorbs into your body easily to boost your metabolism and increase the body's micro circulation. Molecular hydrogen is the world's most powerful antioxidant.
If it's the very best you're looking for than the eco-i-on Hydrogen Bottle is right for you.
We, at eco-i-on guarantee the quality of our portable Hydrogen water generator bottle. Our products produce and maintain hydrogen concentration and does not change the pH of the water. Our high-quality membranes are synthetic polymers - Proton exchange membrane(PEMs) technology that are designed to only transfer protons across the membrane and conduct electricity providing outstanding performance qualities of between 1.1till 1.3ppm of 99.99% of pure hydrogen infused water. We ensure the hydrogen water that generated by bottle is free from chlorine compound, oxygen and ozone, making completely safe to drink, bringing you the maximum benefits of hydrogen water.
Features:
7.0~8.5 Neutral pH, no pH change
1000~1300 ppb Molecular Hydrogen Creation
Hydrogen purity reached 99.99%
SPE(Solid Polymer Electrolyte)/PEM(Proton Exchange Membrane) technologywiththe highest quality Titanium Electrode Membrane from Dupont, USA
100% safe to drink. Oxygen, chlorine and ozone are separated out, discharged from the bottom waste gas vent device
300ml BPA free food grade PCTG material used for infant milk bottle material cup body and food grade PP environmental protection material cup cover
One touch operation, smart and easy to use
Quickly produces hydrogen rich water within 5 minutes and can be drunk directly from bottle
Portable for travel, work and office
Well-sealed for no water leakage
Safety circuit design, auto turn off when bottle is tilted or placed upside down to prevent damage
Non-consumable, hydrogen water can be produced over and over again
1 Year Warranty from date of purchase
3 REASONS to CHOOSE eco-i-on Hydrogen Bottles over any other bottles
1. We promise to deliver 1.1-1.3ppm molecular hydrogen enriched water.
Note: Even though some products state the similar hydrogen concentration, in fact, when measured they failed to deliver. Please take note that to have therapeutic effect of molecular hydrogen to your body, the hydrogen concentration needs to be above 0.5ppm. In another word, if any bottle fails to deliver such concentration, it means the bottle you purchase has no molecular hydrogen benefits to your body. At eco-i-on, we ensure the concentration of hydrogen is properly tested before deliver to you.
2. We promise that we deliver 99.99% of pure hydrogen infused water, with no chlorine, no ozone, no oxygen any other contaminant byproducts.
Note: We use highest quality membranes are synthetic polymers - Proton exchange membrane (PEMs) technology from DuPont, USA, that are designed to only transfer protons across the membrane and conduct electricity. No chlorine or any byproduct could pass through the membranes.
We also use top of the line pure-grade platinum titanium electrolyte strips that is most stable material, that will not produce any byproduct.
Even though some other manufacturers have stated to use SPE/PEM technology, please check the hydrogen purity level they could deliver.
3. We promise a durable use and safe use of hydrogen bottle
Note: The bottles have vent for chlorine and oxygen gas to be released at the bottom of the bottle, preventing the bottle to break due to intense pressure of the oxygen and chlorine gas released.
We also use PCTG/Tritan grade bottle that is used for baby milk bottle, not easy to break, BPA free and can withstand pressure of hydrogen gas.
We also ensure there is a safety feature, in case the bottle is topple over, the bottle will stop operation automatically to prevent damage.
We provide one-year warranty.
WITH THESE REASONS, WE PROMISE to deliver a VALUE FOR MONEY BOTTLE with MOLECULAR HYDROGEN BENEFITS to you.
Disclaimer: This product is not a medical device intended to diagnose, treat, cure or prevent any disease. Before using, people with existing health conditions, or who are pregnant and those taking prescription medications, should consult with their health practitioner. Hydrogen water and gas produced with this product is pure and non-toxic. However, if undesirable symptoms persist, see your health practitioner.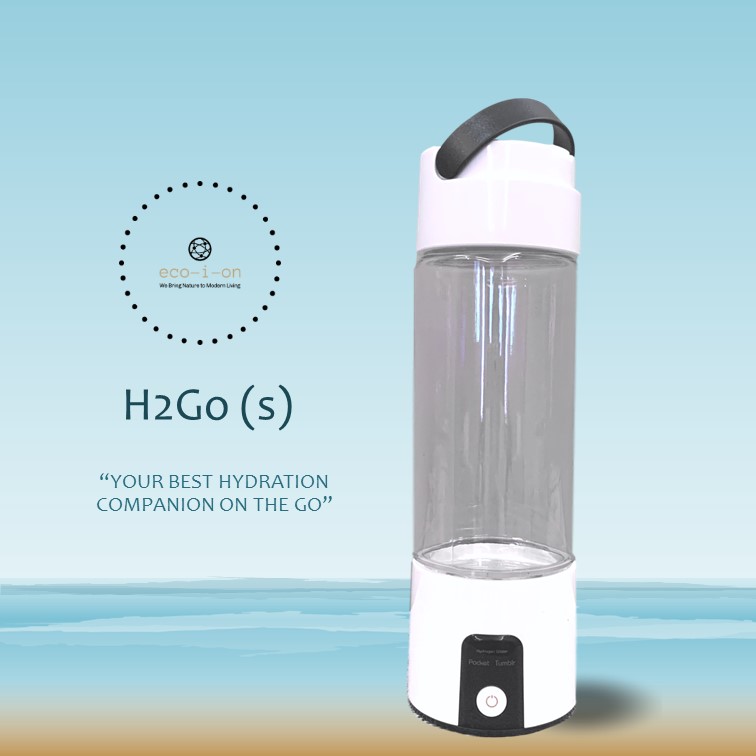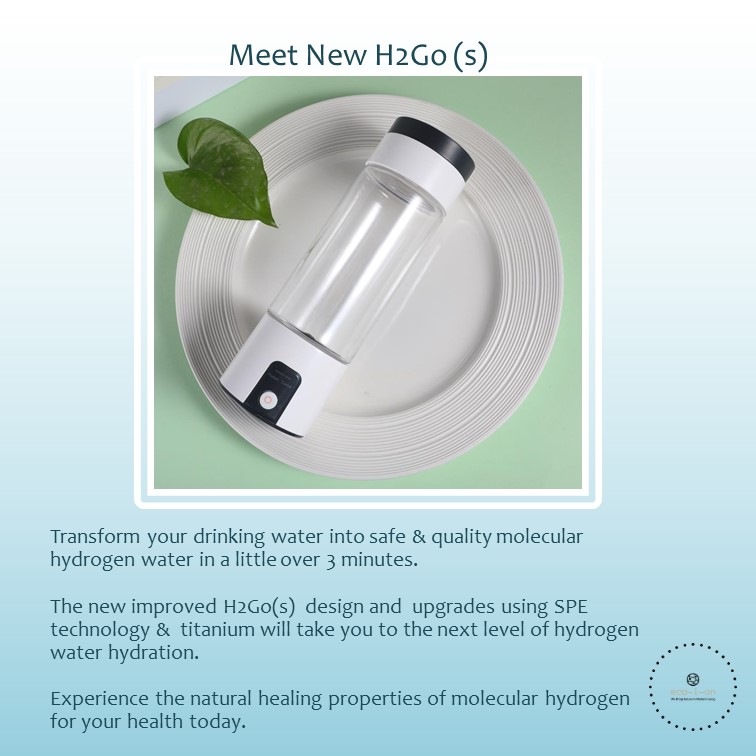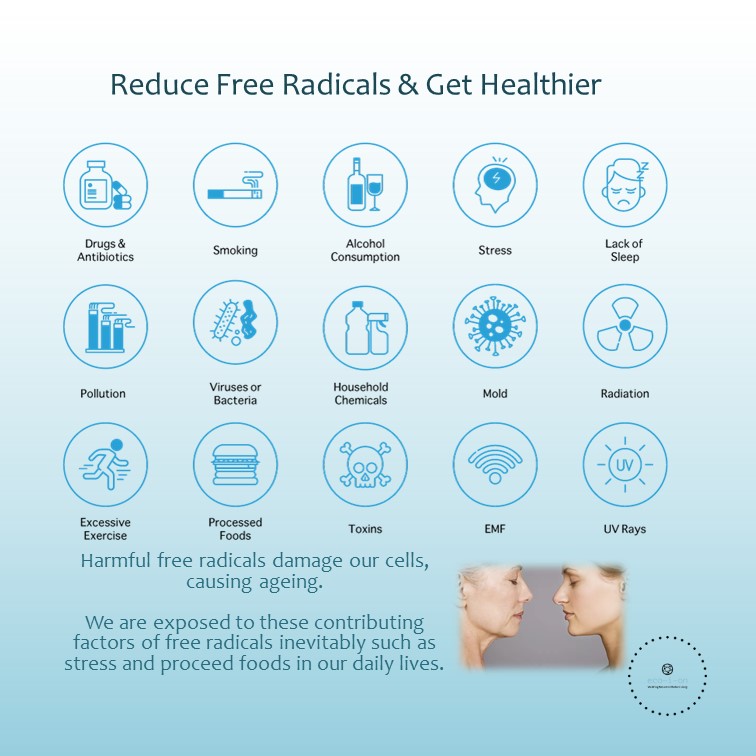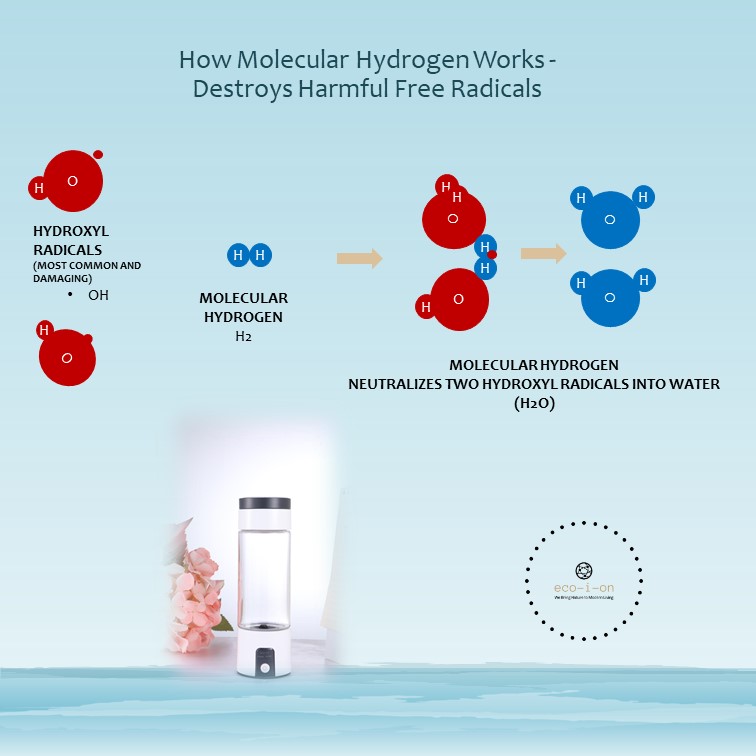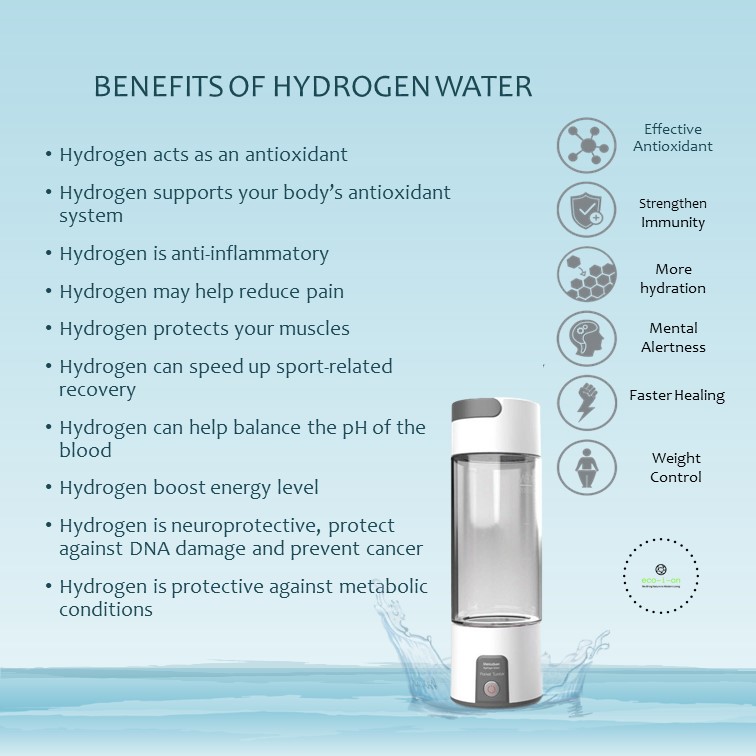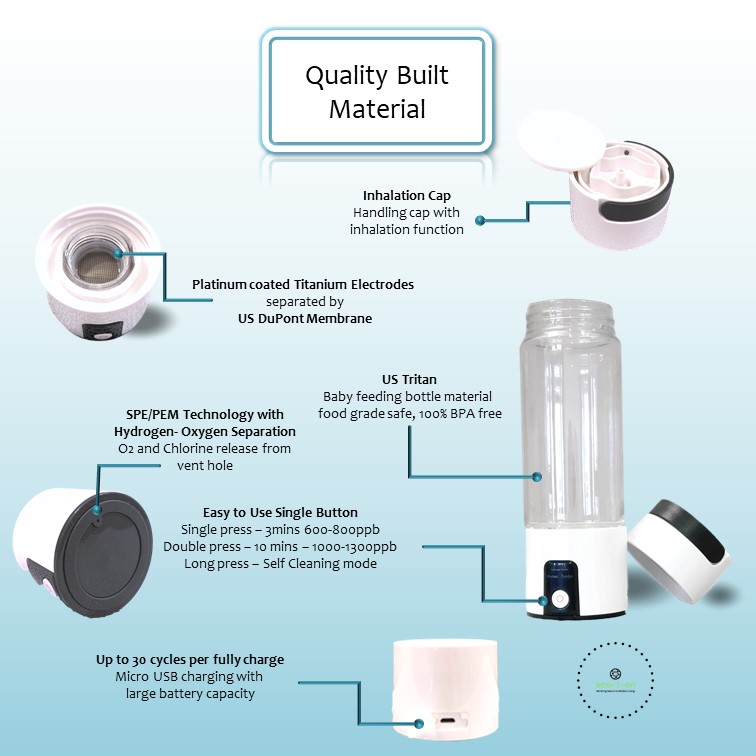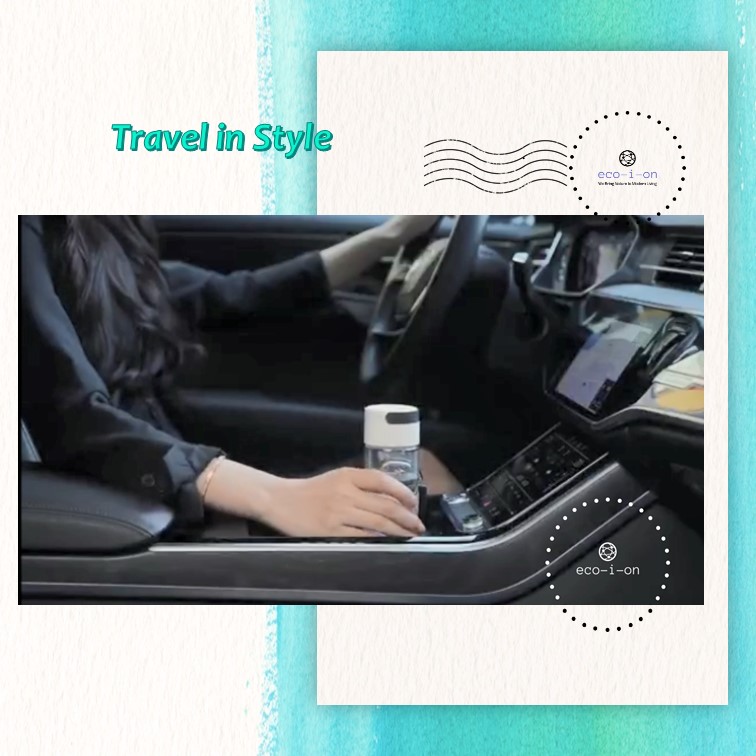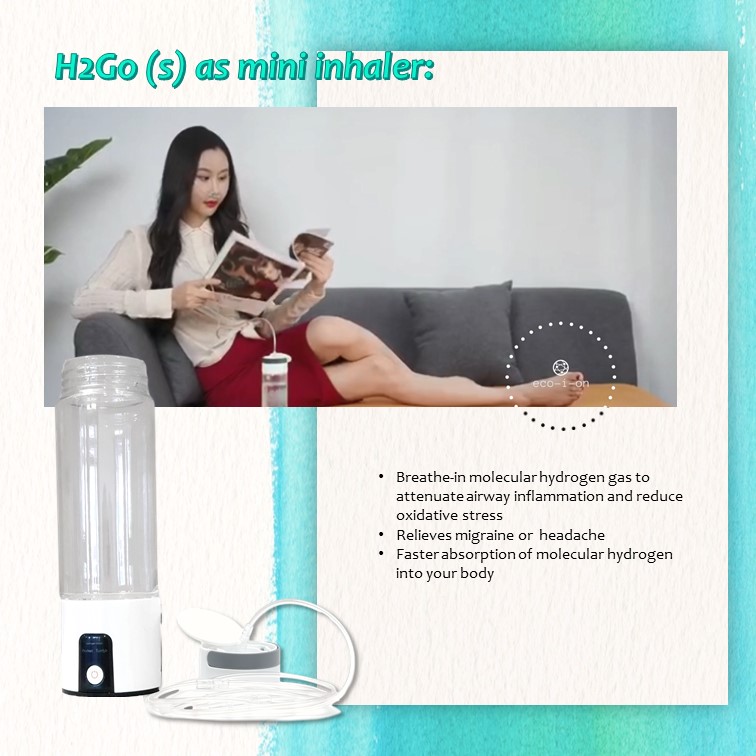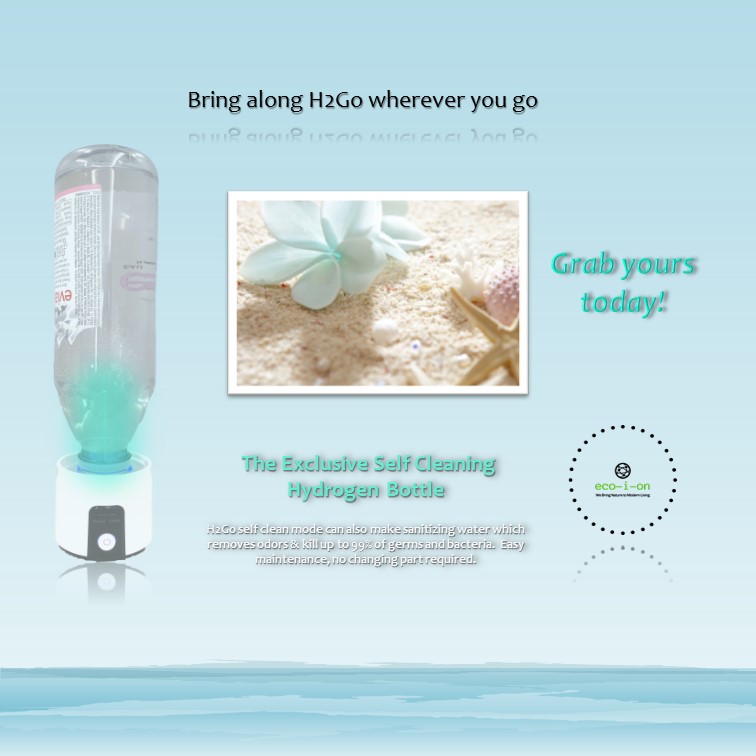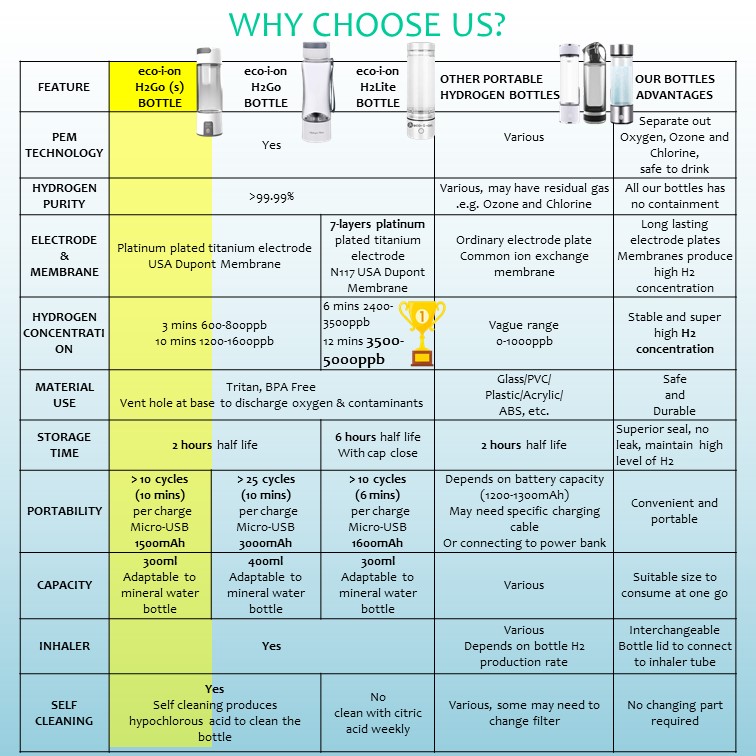 ---